Description
It's the roll type of product that have a adhesive layer on the Polyethylene film which have been processed by corona treatment.
It's ideal for protection of target product in the middle of process, transportation, and it's also one of the main material of packing for finished product.
×
Corona treatment: Make artificial dent on the surface of film by using high voltage to make the adhesive can be fixed easily on it.
PE Â Protective Film
Backing:Â 
PE
Adhesive:Â 
environmentally friendly water-based acrylic
Thickness:Â 
0.03-0.18mm
Width:Â 
1000- 2200mm
Color:Â  Â 
transparent,
black & white,
milky white,
blue, green,
red etc....... 
or as per customers' requirements
Print:Â 
max 4 colors( logo, patterns, etc.)
180°Peeling Strength:
 0.3-6N/ 25mm
Tensile Strength:Â 
Vertical ≥ 12 Mpa; Horizontal: ≥ 10 Mpa
Fracture Elongation Rate:Â 
Vertical ≥ 180%; Horizontal: ≥ 300%
Bonding strength:
 20-500g/25mm
Usage:Â 
Surface protection such as aluminum composite panel, metal panel, stainless steel plate, plastic sheet(PVC, PS, PC, PMMA), building and decoration sheet, etc.
Advantages of PE protective film for surface protection:
(1). durable, recyclable,health, safe
(2). applied to stainless steel, aluminum, copper or brass, whether the surfaces 
(3). are mirrored, fine frosted, coarse-sand blasted, coarse-grain forested, or pre-painted
(4). provide protection during drawing, stamping, bending, cutting, roll forming, storing and transportation
(5). easy to apply and remove, no adhesive residue after removal
(6). stable adhering capacity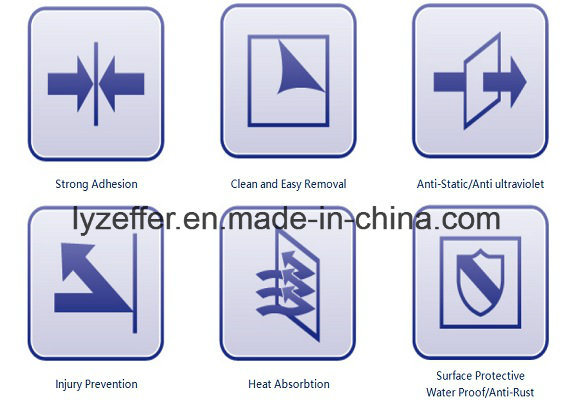 Function:
Our covering film can protect the surface of high-glossy materials such as stainless, aluminum, steel, glass and plastic from damage, contamination, corrosion and scratch.
 1)Film for automobile & its parts
 2)Film for air-conditioner aluminum frame & steel panel.
 3)Protective film for glass building and construction
 4)Film for stainless steel products